The twin-shaft shredder, also known as the shear shredder, reduces the size of the material by shearing, tearing and squeezing. This shredder is widely used in waste plastics, waste rubber, wood and other bulky waste.
Features:
Heavy-duty moving knives, high-breaking efficiency, high-speed knives and fixed knives are all cast from alloy steel, sturdy and long service life.
Iron frame plate is thick, resistant to high torque, very strong
Easy to adjust, low maintenance, economical and durable
The unit yield is the theoretical calculation of the throughput, and the specific use should be based on the actual crushed material density and shape.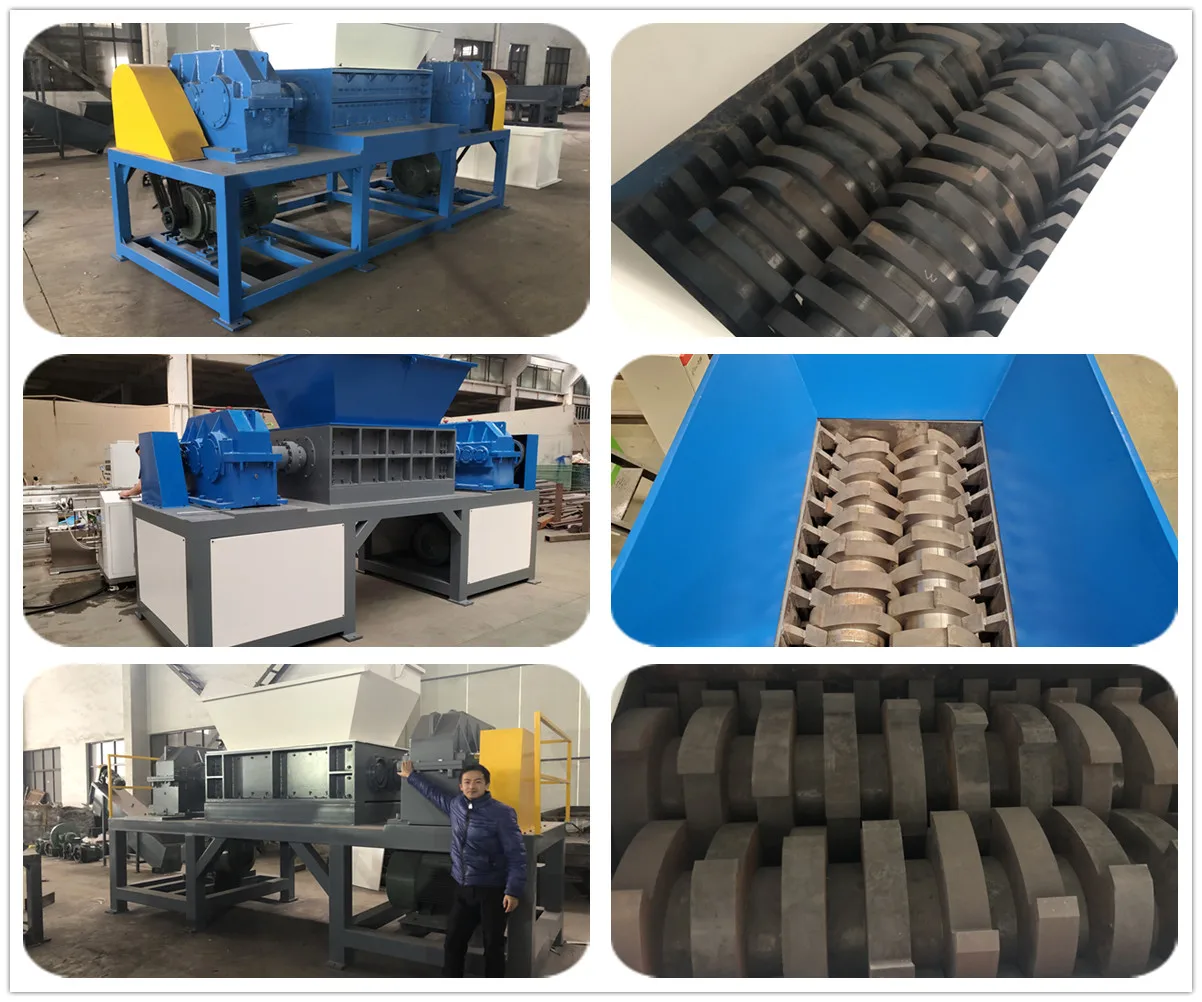 | | | | | | | |
| --- | --- | --- | --- | --- | --- | --- |
| Model | HK-600 | HK-800 | HK-1000 | HK-1200 | HK-1500 | HK-1800 |
| Motor Power(KW) | 15+15 | 22+22 | 37+37 | 45+45 | 55+55 | 75+75 |
| Spindle Length(mm) | 600 | 800 | 1000 | 1200 | 1500 | 1800 |
| Spindle Diameter(mm) | Φ120mm | Φ180 | Φ180 | Φ180 | Φ200 | Φ250 |
| Rotating Speed(rpm) | 20-25 | 15-20 | 15-20 | 15-20 | 10-15 | 10-15 |
| Blade Diameter(mm) | 320 | 420 | 420 | 420 | 520 | 600 |
| Blade thickness(mm) | 20-40 | 25-50 | 25-50 | 40-60 | 40-75 | 50-80 |
| Blade Inner Diameter(mm) | Φ120mm | Φ150 | Φ180 | Φ180 | Φ200 | Φ250 |
| Feeding mouth size(L*W) | 600*560 | 800*750 | 1000*850 | 1200*850 | 1500*1000 | 1800*1200 |
| Reducer Model | 180 | 250 | 315 | 380 | 420 | 480 |
| Control | PLC | PLC | PLC | PLC | PLC | PLC |
| Capacity(kgh) | 200-500 | 600-1000 | 800-1500 | 1200-2000 | 1500-3000 | 2000-5000 |
| Appearance size(L*W*H) | 2500*1050*1800 | 2700*1050*1800 | 2800*1700*2100 | 3800*1800*2100 | 4800*2100*2700 | 5800*2300*2800 |
| Weight(kg) | 2000 | 3800 | 4800 | 5600 | 8000 | 10000 |